Approximately 1 in 12 adults suffers from Atopic Dermatitis1 and this article explains how to care for adult atopic skin. If you are interested in how to care for your baby's or child's skin read How to care for young atopic skin. We examine how the right daily routine helps to keep skin moisturised, prolonging the periods between flare-ups. And we explain how to adjust your routine to soothe and calm skin during a flare-up. To find out about the symptoms, causes and triggers of the disease read Adult Atopic Dermatitis.
How should I care for eczema on my skin?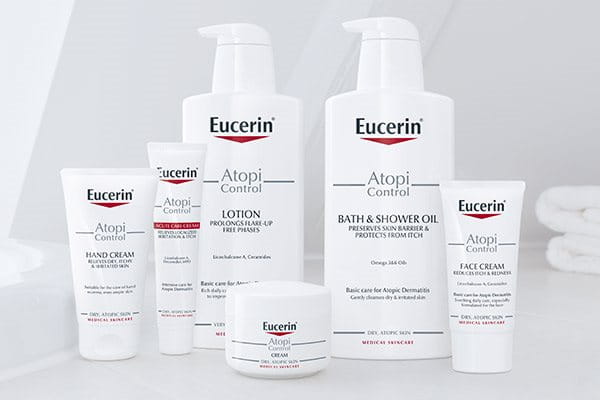 The Eucerin AtoControl range: daily care and flare-up relief for Atopic Dermatitis
Your skin has slightly different needs at each of these stages so we recommend that you adapt your routine accordingly:
Daily care: Gentle cleansing and regular, effective and generous moisturisation to strengthen skin's protective barrier and prolong the periods between flare-ups.
Acute care: The use of anti-inflammatory medication (or other treatments prescribed by your doctor such as wet wraps) and body and face care lotions and creams to soothe and calm skin during a flare-up.
While there is no known cure for Atopic Dermatitis, research has shown that medical interference can improve quality of life measures2 and that regular and appropriate skincare can improve skin condition, support sleep and improve quality of life.3
What daily routine will help my atopic skin?
The focus of daily skincare should be on supporting skin's protective barrier. Giving skin the moisture and lipids it needs helps to prevent further dryness and prolong the period between flare-ups.
Gentle cleansing
Even pure water can increase moisture loss4 so choose quick showers over long baths and, if you do enjoy bathing, try to limit it to ten minutes maximum. Hot water causes further moisture loss, so we recommend that you keep your water temperature below 32°C (90°F).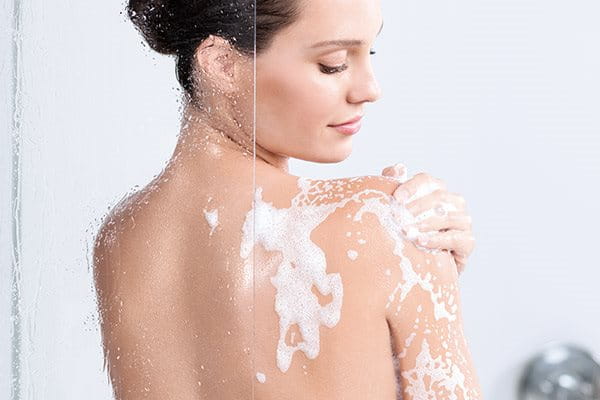 Gentle cleansing is the first step in caring for your atopic skin
Harsh cleansers and exfoliators can strip away essential lipids and damage the delicate protective barrier and moisture balance of your skin. Avoid rough sponges and massage brushes, bubble baths, bath salts, exfoliating scrubs, alkaline soaps and harsh surfactants such as Sodium Lauryl Sulphate. Choose mild, soap-free cleansers such as Eucerin AtoControl Bath & Shower Oil for your body and Eucerin UltraSENSITIVE Cleansing Lotion for your face.
Pat rather than rub skin dry with a clean, soft towel. Apply moisturiser immediately after cleansing to avoid further evaporation of water4 and to make it easier for your skin to absorb the active ingredients.
Regular moisturising
The effective management of atopic skin rests on the regular and continuous application of moisturisers (also known as emollients).5 It's important to apply moisturisers to your face and body at least twice daily, even during periods when the disease seems under control5, to avoid or delay relapses. We recommend you apply hand cream more frequently − at least every time you wash your hands.
Sun protection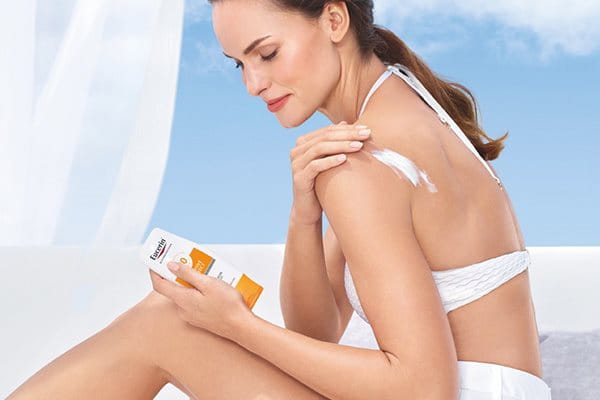 Use a sun protection product clinically proven to be suitable for atopic skin
Already dry, the sun causes atopic skin to dry out further. Limit your exposure, avoid peak hours when sun is at its most intense, use protective clothing and apply an appropriate sun protection factor. Try Eucerin Sensitive Protect Sun Cream SPF 50+ for your face and Eucerin Sensitive Protect Sun Lotion Extra Light SPF 50+ or SPF 30 for your body. These products offer reliable, high-quality protection and are clinically and dermatologically proven to be suitable for atopic skin.
Read more in the effects of UVA and UVB light on sensitive skin.
Can I use make-up on atopic skin?
Make-up
Just because your skin is atopic doesn't mean you can't use make-up, but be sure to choose base products that have been specially formulated for dry, irritated skin5. And don't forget to remove your make-up thoroughly before going to bed.
How can I calm my skin during a flare-up?
The focus of skincare during the acute phase of Atopic Dermatitis is to calm skin, soothe irritation and itchiness and relieve discomfort. Thankfully, there are a number of measures that can help:
Pharmaceutical products and treatments
Ointments and creams such as corticosteroids (e.g. a 1% hydrocortisone cream) offer fast-acting and effective relief during a flare-up. However, hydrocortisone is not a long-term option.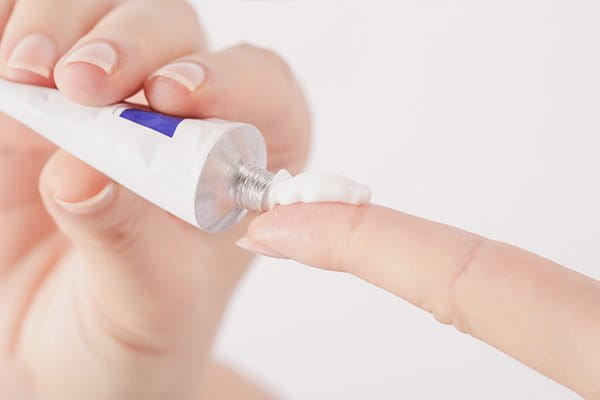 Cortisone cream can be used to calm atopic skin during a flare-up
For severe symptoms your doctor may prescribe or recommend:
A more potent cream or ointment
Phototherapy (ultraviolet light treatment to reduce inflammation)
Wet wraps
Oral corticosteroids and, sometimes, antibiotics to prevent skin from becoming infected
Antihistamines to reduce severe itching
Skincare products with soothing and calming ingredients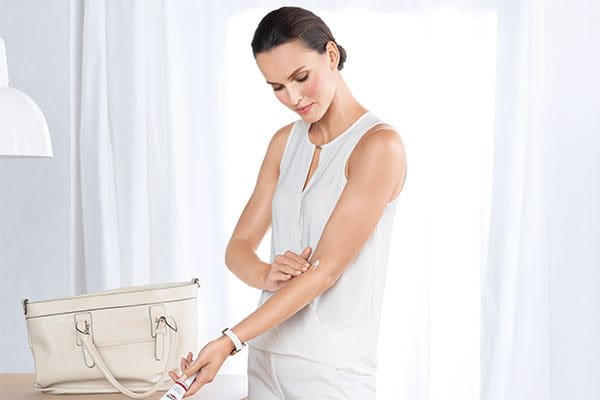 Eucerin Acute Care Cream will help to calm skin during a flare-up
There are a number of active ingredients proven to soothe and calm skin during a flare-up:
Licochalcone A: an extract of liquorice that reduces inflammation and soothes irritation
Decanediol: a powerful anti-oxidant that works against bacteria to prevent infection
Menthoxypropandiol: a menthol-derivative that cools skin and reduces itchiness at a sensory level. You child won`t feel the need to scratch so much and so won't damage their skin any further.
How can I calm my skin during a flare-up?
Flare-up tips:
Keep face and body moisturisers in the fridge to enhance their cooling effect
Pat rather than scratch itchy skin: this can alleviate some of the feelings of itchiness without damaging skin
Make sure there's a hand cream next to every sink in your home and/or workplace to remind you to apply it after washing your hands
Find out more about potential triggers and how to treat eczema flare-ups.
Sources
WebMD
Ben-Gashir MA. Relationship between quality of life and disease severity in atopic dermatitis/eczema syndrome during childhood. Curr Opin Allergy Clin Immunol. 2003 Oct; 3(5):369-73.
Eucerin PiU study. Italy. May 2017
Handbook of Atopic Eczema. M. Kerscher & S. Williams. Springer 2006
Handbook of Atopic Eczema. M. Kerscher & S. Williams. Springer 2006
When used alongside Eucerin AtoControl Body Care Lotion. Source: Beiersdorf research, AtopiControl PiU claim support, May 2017